Are you inspired by people who are living their heart's desire and their dreams? Would you like to live a life with heart and meaning?  Has tragedy affected your life and you are wondering how to pick up the pieces and start over?
Call me: 604-399-0140
Hi, my name is Sandra and I am an Intuitive Psychic Medium. It has always been my hearts desire to help people move forward in their life. To help them see their genius and discover confidence within themselves. This is my passion and life's work. Through my unique insight, connection to the universe and spirit I help people discover how to live their dreams!
Heart's Desire
Every time I sit with a client I am living my dream. For me doing readings is my soul work and is not a game. I put my heart and soul into each reading I do. It is my heart's desire that my clients are touched and moved within the reading. Whether it be moving forward from great tragedy, seeing possibilities for the future, messages from loved ones that have passed, or just needing to get a different perspective on life. I am there for my clients' needs, whatever that may be in the moment. I never know what is going to happen in a reading I just let the reading happen and allow spirit to guide us.
I will show you the window for today and encourage you to make choices, take chances and live life to the fullest.
Using a unique blend of numerology, card readings, mediumship and intuitive insight I will take you on a journey to explore the gifts you were given. I invite you to join me for this exclusive experience. Get in touch to book a reading, package or event.
Looking for a Unique Christmas Gift idea?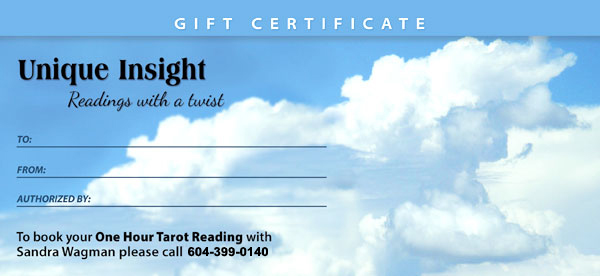 Christmas Special! Buy 1 Gift Certificate for $75 valued at $100.00
---
Sandra is rare gem, kindred spirit and a highly gifted, creative intuitive that uses her genius to lift the spirit of others in a very kind, compassionate and heartwarming way. She carefully takes her time receiving messages from Spirit that are bang on, landing with a bit of mystery and intrigue. The experience with Sandra is magical and one that I will always remember – helping me to rise up on my path with insight, courage and wisdom to move forward. Truly uplifting! Thank you Sandra for sharing your gifts with the world. – Paula Pyne